INFORMATION
VD 3 hard capsule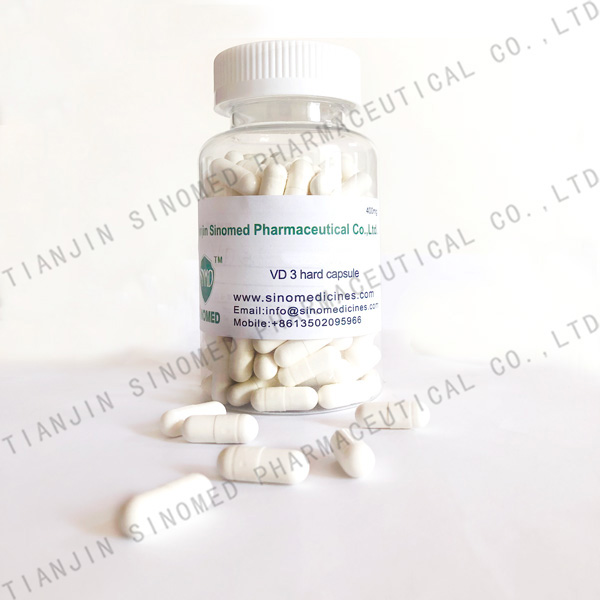 1.Product name:

V

D 3 hard capsule
2.Specification:

Each

hard

capsule contains :

VD 3

………380mg/400mg
3.Package:
100's/bottle; 1000's/bottle; 10's/blister
4.Shelf life:
36 months
5.Registration documents are available.
6.Description
●Applicable Scope:
Medicines, Health care food
●Product Function:
●Products Technical Specifications:
1.Compliance with the food safety requirements;
2.Compliance with the standards for food and drug;
3.Compliance with the regulations in Chinese Pharmacopoeia (2010 edition);
4.Compliance with the customers' standards.
●Storage:
Keep the products at 16-24 ℃ in dry, ventilated warehouse and protect against moisture and light.
Warehouse humidity should be kept between 45% and 65%.
Keep off the ground and wall.
The goods cannot be mixed with goods which are poisonous, harmful, smelly, volatile, and corrosive.
●Shelf life:
36 months under the storage condition requested by the stipulated standard.
7.Our Advantages:
1.Produce the capsules with different types and sizes as per clients' requirement.
2.GMP, HACCP, ISO, OHSAS approved quality processes and standards.
3.Competitive price and high quality.
4.Sample is available.
All of these products are under the assurance of GMP, HACCP,ISO9001 and other related certificates
for many years. Products quality is assured by the advanced equipments and scientific inspection instruments
which can test the most whole required items.
If you are interested in our products,ple feel free to contact us.
Back